Tulip
From Camarilla Wiki
| | |
| --- | --- |
| Clan | Nosferatu |
| Position | ??? |
| Status | Acknowledged |
| Domain | Fortaleza |
| Coterie | ??? |
| Society | Camarilla |
| Path | Humanity ??? |
| Player | Jeff |
Overview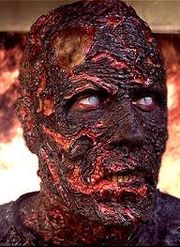 Alias(es):
Tulip
Real Name: ??
Apparent Age: unknown
Concept: Reclusive alchemist
Physical description: 200lbs, 6ft.2in., 2nd and 3rd degree burns cover entire body. Mucus covers body and flies feed off of mucus.
Detailed Status:
Acknowledged

Character Information
Known History
Unknown lineage, but has Gaelic accent. Seems to have fondness for animals. Reclusive and does not trust others easily. Lord of the Flies flaw makes it hard for him to interact with others. He seems to have some affinity with lights or electronics? He is a great skilled alchemist for both kine and kindred.
Coterie
None
Allies
Unknown
Enemies
Unknown
Sire
Unknown
Childer
None
Broodmates
Unknown
Character Inspirations
History of the Arcane Society: Sylvester Jones https://www.youtube.com/watch?v=aF6cAtyQj0k
Soundtrack
Quotes
Rumors