Father Tom
From Camarilla Wiki
| | |
| --- | --- |
| Clan | Lasombra Anti |
| Position | ??? |
| Status | 3 |
| Domain | Santa Rosa |
| Coterie | Catholic Church |
| Society | Camarilla |
| Path | Humanity ??? |
| Player | Player Name |
Overview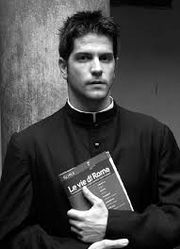 Alias(es): Father Tom; (formerly) Chaplain Tom

Real Name: not given
Apparent Age: early twenties
Concept: Catholic Priest
Physical description: (refer to pic) Cast No Reflection - flaw; Shadows flicker and bend toward his presence; Touch of Frost; Eerie Presence. Athletic build.
Detailed Status: Acknowledged; Loyal ; Feared - for assisting in defeat of Red Listed: Ossian's Pack - Aug.2019


Character Information
Quiet, yet determined. Friendly and cordial. He seems willing to help those in need and aid. He suffers from: Cold Breeze - flaw; Touch of Frost - flaw; Eerie Presence - flaw. He seems to always be carrying a leather bound book with wooden cross bookmark.
Known History
World War II field surgeon and Chaplain of the Allies. Gave nightly sermons at the war front to both sides during the conflict, yet survived. Believes he has been chosen by St. Michael to help others pass through this purgatory.
Coterie
Catholic Church
Allies
Catholic Church
Sovereign Prince Grey - Santo Rosa, CA
Alastor Tara O'Brien
Camille DalBauve
Brother Sextus
Prince Dante Adstratum
Deirdre
Enemies
Infernalists
Sire
unknown
Childer
none
Broodmates
none
Character Inspirations
Constantine: https://www.youtube.com/watch?v=q3lfSQTDSVM
Soundtrack
Disturbed - The Sound Of Silence - https://www.youtube.com/watch?v=u9Dg-g7t2l4
Michael Jackson - Man In The Mirror - https://www.youtube.com/watch?v=PivWY9wn5ps
Quotes
Rumors