Alessio Rinaldi
From Camarilla Wiki
| | |
| --- | --- |
| Clan | Malkavian |
| Position | Prince |
| Status | 7+4 |
| Domain | Ravenna, Italy |
| Coterie | None |
| Society | ??? |
| Path | Humanity 00 |
| Player | Malkavian Coordinator |
Overview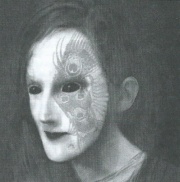 Alias(es):
The Peacock Prince
Real Name:
Apparent Age: Early 20's
Physical description: Alessio is a remarkably beautiful young man, with shoulder-length hair and a complexion to rival the Peacock's porcelain mask. When not holding court, he dresses simply and comfortably, usually in well-worn casual clothes.
As the Peacock, alas, he cannot display his perfect features; however, he atones for this by wearing only the finest and most stylish clothing, whether painstaking recreations of 17th-century court dress or immaculate, tailored pinstripe suits. His porcelain mask is painted with a pattern of peacock feathers about one eye and across one cheek.
Detailed Status:
Acknowledged
Admired
Cherished
Effective
Esteemed
Influential
Just
Exalted*
Famous*
Well-Known*
Distinguished*

Character Information
Known History
He has been prince for only about 50 years, ever since the previous prince vanished on a fool's errand hunting rumors of the Inconnu, naming Alessio his successor. He has proven remarkably resistant to outside influence (a fact that most attribute to his clan), his charm is unmistakable, and his allies are quite loyal. A few have subtly tried to overthrow him during his reign, but to date, every effort has ended in a very public duel in full view of all the court. The Peacock Prince has won each one.

He strives to be the perfect host; always entertaining his guests and magnanimous to his foes - until they irritate him, of course.
Coterie
None
Allies
Many
Enemies
Mostly dead.
Sire
Lyra
Childer
Broodmates
None
Character Inspirations
Soundtrack
Quotes
Rumors
He strips to the waist during a duel -- all the better that his opponent's blood might be honored enough to fall on his painstakingly sculpted physique. Blood on the finest marble - how exquisite.

He thrills to prove his superior skill against inferior opponents, whether through swordplay or political maneuvering.
Prince Rinaldi has never accepted a gift with anything but the utmost charm, warmth and delight.
Not a single gift that has been presented to Prince Rinaldi has ever been seen a second time in public.