Zarek
From Camarilla Wiki
| | |
| --- | --- |
| Clan | Assamite |
| Position | Prince |
| Status | 4+3 |
| Domain | Phoenix, AZ |
| Coterie | None |
| Society | ??? |
| Path | Humanity 00 |
| Player | Rob Purdy |
Overview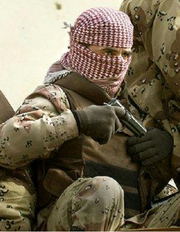 Alias(es):

Real Name: Zarek
Apparent Age: Early 30's
Concept:
Physical description: Zarek stands tall, over six feet, with a firm military bearing. His hair is short, and his face is normally clean-shaven, although he has been seen with a short beard on occasion. He is clearly of Middle-Eastern decent. His skin is unusually tan for a Kindred.
Detailed Status:

Exalted, Famous, and Well-Known as Prince of Phoenix, Arizona
Character Information
Known History
Little is known about Zarek before he was Acknowledged as a member of the Camarilla in 2001. Zarek arrived in Phoenix in May of 2009, gaining his Hospitality shortly thereafter.
Coterie
None
Allies
The Children of Haqim
Enemies
Zarek has demonstrated a special hatred for Sabbat Assamites.
Sire
Nasha
Childer
Michael Smith (deceased)
Broodmates
None, Zarek is an only child.
Soundtrack
Quotes
"It is our mastery of our Beast that separates us from the Sabbat."
Rumors
-No relation to Marek, though often confused with him.
-Zarek is pursuing a personal vendetta.