Tristan Dunstin
From Camarilla Wiki
| | |
| --- | --- |
| Clan | Ventrue |
| Position | Deceased |
| Status | 3 |
| Domain | Peoria, IL |
| Coterie | ??? |
| Society | ??? |
| Path | Humanity 000 |
| Player | Jon D |
Overview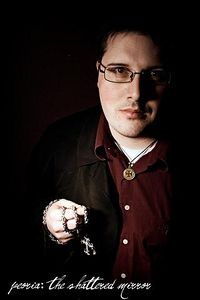 Alias(es): None

Real Name: Unknown
Apparent Age: Mid 30's
Concept: Police Detective / Medieval Knight Hospitaller
Physical description: Tristan stands in right around 6' tall. Slightly muscular build. Tristan is usually seen wearing a nice maroon colored button up shirt, with black dress pants and shoes. He wears a nice, black wool trench pea-coat, which conceals his firearms. Usually he is armed with a heavy cailbur handgun, that is resting in his shoulder harness. Tristan has a look about him, that he seems to have been in a few fights and something you don't want to mess with (Bruiser). He can be seen wearing a bronze medallion that has the Maltese Cross stamped on it.
Merits/Flaws of Note:
Detailed Status:

Acknowledged by Prince William Dunstin, S. J.
Loyal by the Former Primogen Vincent Harther
Feared as Sheriff of the Domain of Peoria, IL
Character Information
Known History
May 2011 - Embraced
June 2011 - Helped protect the domain from a demon who inhabited a member of the rebellion.
July 2011 - Fought another stronger demon with four other people, and survived to talk about it.
November 11, 2011 - Acknowledged by his sire, William Dunstin, S. J.
November 18, 2011 - Became whip to Primogen Vincent Harther.
February 3, 2012 - Was given the status of Loyal by Primogen Vincent Harther for his dedication to the Clan and the Camarilla, always jumping to the front lines to defend those who cannot defend themselves, and he has shed blood for the Clan on numerous occasions.
April 24, 2012 - Was promoted to Primogen of Clan Ventrue in the domain of Peoria, IL.
May 18, 2012 - Was assigned the position of Sheriff in the domain of Peoria, IL, along with Primogen for Clan Ventrue. First night on the job, investigated and captured the suspect known as the RSO killer.
July 20, 2012 - Was destroyed protecting the Domain of Peoria, IL from the Rebellion.
Coterie
Allies
Enemies
The Rebellion
Werewolves
Infernal
Sire
Childer
None
Broodmates
Natalie Dunstin
Character Inspirations
Balian de Ibelin in the Motion Picture "Kingdom of Heaven"
Commissioner James Worthington Gordon, Sr. from the Batman Mythos (Detective Comics)
Adam Jensen from the video game "Deus Ex: Human Revolution"
The Confessor played by Keifer Sutherland in the web-movie "The Confession"
Soundtrack
Tristan (Choir) by Two Steps From He'll album Invincible
1000 Ships of the Underworld by Two Steps From He'll album Invicible
Returns a King from the OST of 300.
Quotes
Rumors
Lasombra inflitrator
Was engaged to a malkavian.
Was possesed by a demon and attemped to destroy William Dunstin, S. J. his sire.
Was killed protecting the domain of Peoria, IL from members of the Rebellion.