Difference between revisions of "Soren le Maudit"
From Camarilla Wiki
 

Line 37:
Line 37:
 
 
 

=Overview=

 

=Overview=

 
+
 

[[File:Soren le Maudit-face.jpg|thumb|right|Soren le Maudit]]

 

[[File:Soren le Maudit-face.jpg|thumb|right|Soren le Maudit]]

 
 
---
Latest revision as of 11:55, 20 May 2020
| | |
| --- | --- |
| Clan | Lasombra Anti |
| Position | Seneschal |
| Status | 6+3+2 |
| Domain | Annapolis, MD |
| Coterie | ??? |
| Society | ??? |
| Path | Road of the Abyss 000 |
| Player | Jason Dawson |
Overview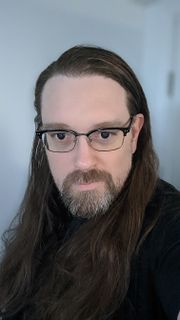 Alias(es):

Real Name: Soren
Apparent Age: Late 30s
Concept: Camarilla Loyal Pirate Sailor with French attitudes and Lasombra ambition
Physical description: Soren is typically dressed in black; tall boots, slacks, shirt, vest, and flowing coat. His long brunette hair hangs down his left shoulder. An obvious decorative chain hangs off his left hip. His right wrist bears a black bracelet with some silver Fleur-de-lis, and the ring on his index finger is adorned with a Lasombra crown. Behind his glasses, the irises of his eyes are Abyssal and black.
As an adherent of the Road of the Abyss, his appearance depicts the beckoning call of darkness, the inhumane cost of terrible knowledge, and a void absent of mortal trivialities such as blinking, breathing, or fidgeting.

Detailed Status:

Personal:


Acknowledged by Prince François Villon, 1825

Loyal member of clan Lasombra, 1848

Well-Connected by Jared Obstfeld, 3/17/18

Dedicated by Sovereign Rook, 11/17/18

Influential by Sovereign Rook, 5/4/19

Determined by Prince Landrake, 2/22/20

Positional:


Cherished as Seneschal 5/18/19

Esteemed as Seneschal, 5/18/19

Trusted as Seneschal, 5/18/19

Honorary:


Respected as a Scion of the Camarilla by François Villon, 1848

Insightful as an Agent of E Division

Character Information
Known History
1848 - After 23 years of living the Anarch life in France, Soren returned to the Camarilla proper with notable distinction. Soren was instrumental in preserving the existence of a Légat against an early dawn raid by Sabbat ghouls. The Sabbat forces attempted to trap the Légat in the open aired courtyard. Soren's Obtenebration defied the sun for over three hours and protected himself and the Légat long enough for the Prévôt's ghouls to break the encircling forces. Prince Villon personally declared Soren a Scion of the Camarilla for his actions that morning.
2017 - After years of treading water in the politics of Europe, Soren managed to offend a powerful elder. Soren drained his political capital to survive the scandal. He then decided to 'further his education" by leaving the courts of Europe in a gentle exile to America to avoid being victim to further political opportunism. He successfully relocated to the court Sovereign Prince Rook in Annapolis, MD.
2019 - Soren established a small private naval museum in Annapolis on Gibson Island, the Broadsides Peerage Lodge. Sovereign Rook dedicated it as one of the Elysium sites in Annapolis.
2019 - Soren has quickly risen in the fertile political landscape of the American Kindred. He has just accepted the honor of serving as Seneschal to Sovereign Rook.
2019 - After the death of Sovereign Prince Fiona MacGregor, Soren was reprimanded (lost Trustworthy status) by Justicar Cardoso for his opinion on the illegality of Prince Stone's gambling den Elysium.
2020 - Soren was rewarded (gained Determined status) by Prince Landrake for his part in the defeat and imprisonment of a Fallen.
Coterie
Allies
Rook
Harrow
Anastasia Koslov
Izarra Getzi
Ora Primrose
Morgan Trevani
Maxwell Reyes

Enemies
Ennui, neonates without fashion sense, and reality television.
Sire
Jared Obstfeld
Childer
Broodmates
Character Inspirations
Soundtrack

These Bendy and the Ink Machine songs invoke warnings about Abyssal mistakes and nightmares, yet are quite delightful.
Quotes
Rumors
Soren was one of several key actors in returning an Elder back from the state of being a Daeva.
Soren is not actually French, but truly a Canadian poser.
Soren detests Bill Smith, and is out to get him.
Soren teaches blindfighting for very low prices.