Rorschach
From Camarilla Wiki
| | |
| --- | --- |
| Clan | Nosferatu |
| Position | Unknown |
| Status | 2 |
| Domain | Natal and Fort North, Brazil |
| Coterie | Unknown |
| Society | ??? |
| Path | Humanity 00 |
| Player | Marcel Ribeiro Dantas |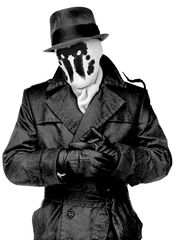 Overview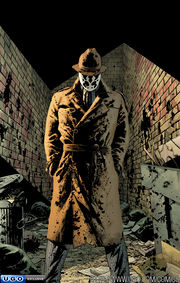 Alias(es):
Rorschach / Francisco / John / João

Real Name:
Unknown

Apparent Age:
Impossible to tell

Concept:
Unknown

Physical description:
It is difficult to get a physical description about Rorschach. In the situations he wished to be seen (it's hard to believe that many saw him without it so desired) he was always covered by a coat, using boots and thick gloves. Also, his face was wrapped in a fabric with stains and a hat. He's about 70.8" and appears to have a strong body though it's difficult to tell with all that stuff wrapped about him.

Detailed Status:

- Acknowledged by Pietro Villas Boas, former Prince of Natal, Brazil (In Memorian).
- Well-Connected by Thiago Sanderson, Primogen of Natal, Brazil (2012).
Character Information
Known History
His mortal days are long gone. Nothing is really known about him.
Coterie
He is usually seen (when he is seen) alone.

Allies
Unknown
Enemies
Unknown
Sire
Thiago Sanderson
Childer
Unknown
Broodmates
Unknown
Character Inspirations
Rorschach (Watchmen)
Soundtrack
Quotes
"Men in general judge more by the sense of sight than by the sense of touch, because everyone can see, but only a few can test by feeling. Everyone sees what you seem to be, few know what you really are, and those few do not dare take a stand against the general opinion."
Rumors
- Some people have mentioned sudden changes on the stain of the fabric that covers his face.
- As long as his face is covered, he seems to be a nice guy. Hmm.. What if it's removed?! Well, either that's expensive information or nobody survived to tell.