Rishi Massoud
From Camarilla Wiki
| | |
| --- | --- |
| Clan | Child of Haqim |
| Position | Archon |
| Status | 4+2 |
| Domain | Lehigh Valley, PA |
| Coterie | None |
| Society | {{{Society}}} |
| Path | Humanity 000 |
| Player | Dylan G. |
[[Category:Society:{{{Society}}}]]
Overview
Alias(es): No known Aliases
Real Name: Unknown
Apparent Age: 26ish
Concept: Refugee from the Mountain
Physical description: Rishi is relatively tall at 6'. He's physically average-looking and of a more Eastern European decent. His skin shows signs of a fading tan, but has every appearance of slipping closer to his beast. Almost always wears a beat-up trench coat and jeans, even at formal occasions.
Detailed Status:
Character Information
Known History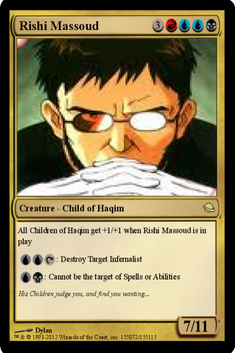 Rishi arrived in Istanbul a number of years ago, seeking Acknowledgement. He remained there until 2006, when he returned to the US. Since that time, he has lived in several domains, previously serving as Sheriff, Harpy, and Seneschal. His probationary sect standing was removed shortly after the 2008 Conclave. He's been known to travel with a variety of Kindred, providing logistics, intel and support to help expunge domains of the Sabbat.
Rishi was chosen to be an Archon under Justicar Lucinde in 2010. He served until late 2011, and was released from service. Speculation still exists as to why.
Rishi was present during several encounters with the infernal kindred known as Baali, and is rumored to have traveled extensively during the time period known as the Year of Fire to take the fight to them.
After being released from his duties as Archon Rishi spent time as a nomad, wandering through Canada, the Midwest, Southeast and Mid-Atlantic. There has been speculation that he was chasing the remnants of the infernalists, hunting wayward clanmates or possibly trying to get his mind right after all that he had seen. None of these rumors have been confirmed.
Rishi spent some time as a Primogen in the domain of Imperial Prince Kelly, though he continues to be spotted in domains across the US. His life has been far less public than it once was. The reason for this remains largely unknown.
In 2014, Lord Justicar Jaroslav Pascek called Rishi into service as one of his Archons. Rishi served publically until his disappearance in March 2015. To this day it is unknown whether Rishi met Final Death, was incapacitated or has otherwise hidden himself away. What is known is that a life boon owed by his person was called in during the Baltimore Conclave of 2015, and was never responded to by his person. His current whereabouts and status are unknown.
Coterie
Unknown

Allies
Allies: Vampires have allies? Interesting... These are some known associates.
Soverign Imperial Prince Kelly Deceased
Prince Zphonco Davinovich Deceased
Prince Madison Langley Deceased
Harpy Isabella Rodriguez Deceased
Prince Tatiyana Krajnik
Archon Jacob Black
Archon Oliver Freigh
Harpy Silhouette
Keeper Julius Cole
Keeper Joseph Gallagher
Marek
Lilyan Townsend
Zackary Cole

Enemies
What day is it again? They don't advertise so I have a calendar that helps me remember.
Sire
Rohan Massoud
Childer
Razi Massoud
Rue Massoud
Roland Massoud
Ryah Massoud
Others: Unknown
Broodmates
Character Inspirations
Real: Johnny Cash, Elliot Ness, Ninjas... Fictitous: Geoffrey Lewboski, Martin Blank, Eddie Valiant, Gene Ryack
Soundtrack
Johnny Cash- Fulsom Prison Blues
Iron Maiden- Be Quick or Be Dead
Janis Joplin- Kozmic Blues
Accept- Fast as a Shark
The Damned- I Fall
AC/DC- Let There be Rock
The Ramones- Strength to Endure
Our Lady Peace- One Man Army
Iggy Pop- Sick of You
Warren Zevon- Lawyers, Guns and Money
Lynyrd Skynard- Simple Man
Blackfoot- Highway Song
The Eagles- Desperado
Queen-We are the Champions
Dropkick Murphys-Rose Tattoo


 

Green Day- Working Class Hero
The Beatles- While My Guitar
Gently Weeps
Agent Orange- Living in Darkness
Jethro Tull- Wind Up
Slayer- Black Magic
Cage the Elephant- Ain't No Rest for the Wicked
The Skids- The Saints are Coming
Alice in Chains - Don't follow
The Vibrators- Keep it Clean
Bob Dylan- Times they are a Changin'
The Outlaws- Green Grass and High Tides
The Lybians- Welcome to the Neighborhood
Sublime- Santaria
Foster the People Pumped up kicks


 

Judas Priest- Painkiller
The Ventures- Walk Don't Run
Adverts- One Chord Wonders
The Allman Brothers- One Way Out
Rush- 2112 Overture
Motorhead- Ace of Spades
Social Distortion- Ball and Chain
The Who- Behind Blue Eyes
The Boxtops- The letter
Bruderschaft- Forever (Essenz Mix)
AC/DC- If you want blood
Rage Against the Machine- Testify
Black Sabbath-Into the Void
The Mountain Goats-Your Princess is in another castle


Quotes

"It was all good 'til the werewolves came home..."
"Reva, you're not going to cut me. Settle down."
To Takashi after fighting the infernal: "Yep.. you're all kinds of fucked up. I suggest you go see a doctor."
To Reva: "You should learn from the retardation of your older brother."
On teaching Aillish Gallagher how to meditate: "You know, trying to teach you how to meditate is like trying to keep an ADHD kid still."
To Piscin: "Piscin, you really are the random exception. To everything. I've just come to accept that about you."
Piscin to Rishi: (as a member of the Sabbat blathers on while they sit slightly away from the conversation) "This is what you do, isn't it? People see you and look right through you. It must make you really good at your job, because you're constantly underestimated."
Rue Massoud on Rishi's antics: "Death once had a near-Rishi experience."
To Marley Crowley regarding power: " Power, by its very nature, is fleeting. If you believe you have it, you've already lost it. If you seek it, it will find you and you won't like it. If you understand the nature of it, you know well enough to leave it the fuck alone."
On Politics: "Sometimes you have to go backwards to make progress."

Rumors

He once tried to convince Olivia that jumping out of an airplane without a parachute was a perfectly reasonable method of travel.
He was once late to Elysium because a competitive Brujah was trying to beat Rishi's score on a pinball machine.
He has to be constantly reminded to change his clothes by people who pay attention to those sorts of things.
Rishi was a used car salesman and that was amplified by his embrace.
Rishi's personality is wired much like a modern adrenaline junkie.
Rishi's clan doesn't allow him to ask blunt questions... Ever...
He doesn't like when kindred keep people as pets on a leash.
He doesn't like you and you know who you are.
He has a short attention span.
He's paranoid.
He's insane.
He was killed.
He's in hiding.
He was kidnapped.