Rishi Massoud
From Camarilla Wiki
| | |
| --- | --- |
| Clan | Child of Haqim |
| Position | Primogen |
| Status | 5 |
| Domain | Allentown, PA |
| Coterie | None |
| Society | {{{Society}}} |
| Path | Humanity 00 |
| Player | Dylan G. |
[[Category:Society:{{{Society}}}]]
Overview
Alias(es): No known Aliases
Real Name: Unknown
Apparent Age: 26ish
Concept: Refugee from the Mountain
Physical description: Rishi is relatively tall at 6'. He's physically average-looking and of a more Eastern European decent. His skin shows signs of a fading tan, but has every appearance of slipping closer to his beast. Almost always wears a beat-up trench coat and jeans, even at formal occasions.
Detailed Status:
Acknowledged by Prince Mustafa of Istanbul
Adroit by Prince Kelly of the Lehigh Valley
Brave by Prince Zphonco Davinovich of Milwaukee
Loyal by former Prince Ranice Kieber
Vigilant by former Prince Lilyan Townsend
Character Information
Known History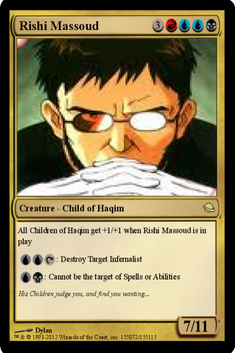 Rishi arrived in Istanbul a number of years ago, seeking Acknowledgement. He remained there until 2006, when he returned to the US. Since that time, he has lived in several domains, previously serving as Sheriff, Harpy, and Seneschal. His probationary sect standing was removed shortly after the 2008 Conclave. He's been known to travel with a variety of Kindred, providing logistics, intel and support to help expunge domains of the Sabbat.
Rishi was chosen to be an Archon under Justicar Lucinde in 2010. He served until late 2011, and was released from service. Speculation still exists as to why.
Rishi was present during several encounters with the infernal kindred known as Baali, and is rumored to have traveled extensively during the time period known as the Year of Fire to take the fight to them.
After being released from his duties as Archon Rishi spent time as a nomad, wandering through Canada, the Midwest, Southeast and Mid-Atlantic. There has been speculation that he was chasing the remnants of the infernalists, hunting wayward clanmates or possibly trying to get his mind right after all that he had seen. None of these rumors have been confirmed.
Currently, Rishi has accepted a Primogenship in the domain of Imperial Prince Kelly, though he continues to be spotted in domains across the US.
Coterie
Unknown

Allies
Allies: Vampires have allies? Interesting... These are some known associates.
Soverign Imperial Prince Kelly
Prince Julius Cole
Seneschal Tatiyana Krajnik
Harpy Isabella Rodriguez
Joseph Gallagher
JC
Mei Lii (Deceased)
Lady Elizabeth of York (Deceased)
Joe Evans (Deceased)
Sheriff Lucas Grunwald (Deceased)
Primogen Bastion Stone (Deceased)
Keeper Zoe Moreau (Deceased)

Enemies
What day is it again? They don't advertise so I have a calendar that helps me remember.
Sire
Rohan Massoud
Childer
Razi Massoud
Rue Massoud
Roland Massoud
Others: Unknown
Broodmates
Character Inspirations
Real: Johnny Cash, Elliot Ness, Ninjas... Fictitous: Geoffrey Lewboski, Martin Blank, Eddie Valiant, Gene Ryack
Soundtrack
Quotes
"It was all good 'til the werewolves came home..."
"Reva, you're not going to cut me. Settle down."
To Takashi after fighting the infernal: "Yep.. you're all kinds of fucked up. I suggest you go see a doctor."
To Reva: "You should learn from the retardation of your older brother."
"Your family is taking over the M section in my phonebook and the R section of my catalog." - Olivia Reed Brannon
On teaching Aillish Gallagher how to meditate: "You know, trying to teach you how to meditate is like trying to keep an ADHD kid still."
To Aillish on her reaction to candle flame: " Oh no, you're not scared; Your body's just shaking like a lobotomy patient."
To Piscin: "Piscin, you really are the random exception. To everything. I've just come to accept that about you."
Piscin to Rishi: (as a member of the Sabbat blathers on while they sit slightly away from the conversation) "This is what you do, isn't it? People see you and look right through you. It must make you really good at your job, because you're constantly underestimated."
About a sparkly stripper: Joseph Gallagher- "You get two minutes." Rishi- "I only need two minutes."
To a just un-engaged Toreador: "When he gave you the ring, did he mean it?"
Rue Massoud on Rishi's antics: "Death once had a near-Rishi experience."
Rumors
He once tried to convince Olivia that jumping out of an airplane without a parachute was a perfectly reasonable method of travel.
Rishi's personality is wired much like a modern adrenaline junkie.
He has a short attention span.
He has to be constantly reminded to change his clothes by people who pay attention to those sorts of things.
Rishi starts half the rumors about himself.
He was once late to Elysium because a competitive Brujah was trying to beat Rishi's score on a pinball machine.
Never allow Rishi to ask a blunt question.
He goes after the infernal like a machine created for the task.
He doesn't like when kindred keep people as pets on a leash.
He doesn't like you and you know who you are.
He knows what you've done and has a long memory. Again, you know who you are.
He's paranoid.
He's insane.
Oh that guy? Yeah, if he wasn't so useful I'd avoid him.
Rishi was a used car salesman and that was amplified by his embrace. He can get you stuff.