Red (the Third)
From Camarilla Wiki
| | |
| --- | --- |
| Clan | Gangrel |
| Position | None |
| Status | 1 |
| Domain | Los Angeles, CA |
| Coterie | None |
| Society | ??? |
| Path | Humanity ??? |
| Player | Anneke |
Overview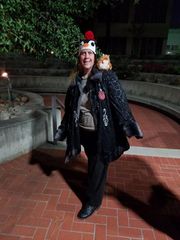 Alias(es):
Red
Real Name:
Apparent Age: 18 apx.
Concept: Malkavian/Gangrel/Catiff
Physical description: 18 year old girl, blonde hair, tends to be very friendly. Keeps squirrels in her pockets.
Detailed Status:
Acknowledged 4/2017 by Sovereign Prince Ethan Neumann of Los Angeles CA
Primogen (Revered) 7/14/2018 - Los Angeles
Clever 1/2/2019 - by Sovereign Prince Ethan Neumann of Los Angeles CA

Character Information
Known History
Noted as (the Third), because she is the Third Gangrel she knows of to go by the name of 'Red'.
List of where she has been seen, helps people remember where they have met her:

9/2016 - Arrived to the LA Court, was put under the accounting of Sawyer
4/2017 - Acknowledged by Sovereign Prince Ethan Neumann of LA
5/2017 - Attended Grand Elysium (Northern California)
8/2017 - Attended Grand Elysium (Ohio)
12/2017 - Attended Santa Rosa Party
3/2018 - Attended G&G (Baltimore)
5/2018 - Attened Northern California Grand Elysiums
1/2019 - Attended Milwaukee Elysium party


Coterie
Allies
Malcom (Malowl)
Joe Barcley
Guillermo
Sunny
Pitbull
Shawn Roberts
Daciana
Sawyer

Enemies
Chaindog
Sire
Says her Sire's name was Silver, and female.
Childer
N/A
Broodmates
Character Inspirations
Soundtrack
Quotes
"The Squirrels in LA are SOOOO Fat! And Delicious!"
Rumors
She is Joe Barcley's Childe.
Her fight form is that of a Penguin.
She was possessed by something.
There was a Praxis attempt in Los Angeles 10/2018, it's rumored the Prince said she was the only one completely innocent in the situation, because she was not on this plane of existence (was he speaking literal or figurative).