Miguel dos Santos
From Camarilla Wiki
| | |
| --- | --- |
| Clan | Nosferatu |
| Position | None |
| Status | 3 |
| Domain | Florianópolis, SC/Brazil |
| Coterie | None |
| Society | ??? |
| Path | Unknown - |
| Player | Miguel dos Santos |
Overview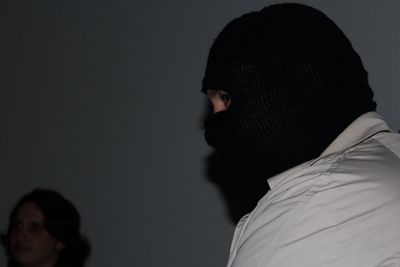 Alias(es):

Du'Santos.
Real Name:
Unknown.
Desconhecido.
Apparent Age:
Impossible to tell.
Impossível dizer.
Concept:
Sabbat Hunter.
Caçador de Sabá
Physical description:
Miguel dos Santos has 6' tall and 250 pounds of weight.
His face and body always remains hidden, but his deep and black eyes are always in evidence.
Always wears jeans, a shirt and a particularly clear, old and torn trench coat.
His posture is a fighter, a soldier, but there is something more, something almost supernatural. He is a predator and that everyone feels his presence.
Miguel dos Santos tem 1.8m de altura e 125 quilos de peso.
Seu rosto e corpo sempre permanece oculto, mas seus olhos negros e profundos ficam sempre em evidência.
Sempre usa jeans, uma camiseta e um particularmente claro, velho e rasgado casaco.
Sua postura é de um lutador, um soldado, mas há algo mais, algo quase sobrenatural. Ele é um predador e todos sentem isso sua presença.
Detailed Status:

Acknowledged
Feared
Feared
Character Information
Arrived in Florianópolis in Abril 2011.
Became Whip of Nosferatu clan in Abril 2011.
He joined the surgical strike group regained a former prince of the Sabbath in April 2011.
Participated in a major attack on the Sabbat in June 2011 that brought together members of six different domains.
Became Scourge of Florianópolis and Laguna in July 2011.
Was present at signing ceremony of the treaty between the domain of Florianopolis and Laguna and the Free State of Tubarão in August 2011.
Ceased to be the Scourge in November 2011, to work more for the clan.
Chegou em Florianópolis em Abril de 2011.
Tornou-se Chicote do clã Nosferatu em Abril de 2011.
Fez parte do grupo de ataque cirurgico que recuperou um ex-principe do Sabá em Abril de 2011.
Participou de um grande ataque contra o Sabá em Junho de 2011 que reuniu membros de seis dominios diferentes.
Tornou-se Algoz de Florianópolis e Laguna em Julho de 2011.
Esteve presente na cerimônia de assinatura do tratado entre o domínio de Florianopolis e Laguna e o Estado Livre de Tubarão em Agosto de 2011.
Deixou de ser Algoz em Novembro de 2011, para trabalhar mais pelo clã.
Allies
Arthur Rocha.
Luiz Eduardo.
Enemies
Unknown, but they are all dead.
Desconhecidos, mas estão todos mortos.
Sire
Unknown.
Desconhecido.
Childer
Unknown.
Desconhecido.
Broodmates
Unknown.
Desconhecido.
Quotes
"I am the predador here."
"Eu sou o predador aqui."
Rumors
In three months Miguel saved from destruction two primogens, a sheriff and a whip.
It's one of those responsible for ending decades of conflict between Brujah and Nosferatu Florianópolis through diplomacy.
Staked, put in a torpor through injury of their allies in two different situations and this only increased their friendship.
In his first event in Florianópolis unveiled a crime against the seneschal brought evidence against a primogen and nobody knew him in the city so far.
It was one of those responsible for the signing ceremony between the domain of Luis Eduardo and the Free State have been public.
In a preemptive strike led by his ally Juan Pablo Malatesta, Miguel alone eliminated more than ten members of the Sabbat.
He was part of the group responsible for the discovery of an infernalist in the domain of the Valley of the Shadows.
He fought and survived without injury, against an elder Tzimisce infernalist.In that match Demétrio die and Ignacio Shark was kidnapped, both were members of Clan Nosferatu.
Defeated all three Gangrel of Florianópolis in combat.
They say he is no longer a member of the Camarilla.
They say he is a member of the Anarch movement.
Em três meses, Miguel salvou da destruição dois primogênitos, um xerife e um chicote
É um dos responsáveis pôr dar fim a décadas de conflito entre Brujah Nosferatu e em Florianópolis através da diplomacia.
Estacou, colocou em torpor através de ferimentos um dos seus aliados em duas situações diferentes e isso só aumentou a amizade deles.
Em seu primeiro evento em Florianópolis desvendou um crime contra o senescal, trouxe evidencias contra um primogênito e ninguém conhecia ele na cidade até aquele momento.
Foi um dos responsáveis pela cerimônia de assinatura entre o domínio de Luis Eduardo e o Estado Livre ter sido pública.
Em um ataque preventivo liderado por seu aliado Juan Pablo Malatesta, Miguel eliminou sozinho mais de dez membros do Sabá.
Fez parte do grupo responsável pela descoberta de um infernalista no dominio do Vale das Sombras.
Lutou e sobreviveu, sem ferimentos, contra um ancião Tzimisce infernalista. Nesse combate morreu Demétrio e Inácio Tubarão foi sequestrado, os dois eram membros do clã Nosferatu.
Derrotou os três Gangrel de Florianópolis em combate.
Dizem que ele não é mais um membro da Camarilla.
Dizem que ele é um membro do movimento Anarquista.