Leviticus Monroe
From Camarilla Wiki
| | |
| --- | --- |
| Clan | Ventrue |
| Position | Prince |
| Status | 5+2+4 |
| Domain | Ann Arbor, MI |
| Coterie | None |
| Society | M.U.T.E. |
| Path | Humanity 00 |
| Player | C.D.K. |
Overview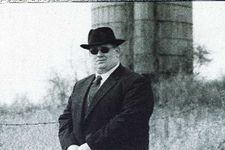 Alias(es): Levy
Real Name: Unknown
Apparent Age: Mid to late 30s
Concept: Civil Servant
Physical description: 6'2 w/broad shoulders, thick frame, and grey facial hair. Speaks with a russian accent.

Detailed Status:
Acknowledged - 1920's
Well Connected - Prince Montrose 2017
Well Connected - Prince Eduardo D'everaux 2018
Respected - Scion 'Prestigious sire' 2018
Dedicated - M.U.T.E. 2017
Dignified - Tony Anglo 2018
Reserved - A. Jones 2018
Exalted, Famous, Well-Known, and Distinguished. Prince of Ann Arbor, MI 2018

Ventrue Only

Dignitas:
Iron Circlet
Paragon of The Tartan
Paragon of Finance

Character Information
Known History
In the later months of 2017 Leviticus, with his Wife Amelia, and childhood friend Celebron, traveled from Alaska to Toledo Ohio. They remained in Toledo for a year until it was decided that Ann Arbor MI would be taken from the Sabbat. The three aided in the takeover, and now reside in the newly found Camarilla domain.
Fame 3 Gatsby's Financial Solutions
Coterie
None, but will not hesitate to form a 'Consortium' of like minded people should the need be great.
Allies
Ameliea Freeman
Celebron Marque
Lucille Carnegie
Jyre Young
Alexander Melbourne
Joseph Haslitch
Grim Caldwell
Tess Smith
Georgieanna Lambeth
Dr. Oliver Hollander DVM
Jane Doe of Toledo
Mr. Stone
Dr. Lawrence Reinholtz
Xanha




D̷̶̰̬̺͖̞̳̰̥͎̪̮̰̫͈ͩͬ̊ͯ̑̄͊̽ͪ̑̾ͥͧ̋ͮ̿́̀͘͝i̶̢͋̊ͮͣͫͯͥͮ̆̓͒̚͞͞҉̳͚͉͖͔g̵̛̻̟͕̣̜ͦ̒̈̉̾͑̂̍ͪͬi̸̽̄ͩ̅ͪ́̕͟͏͙̰͓̖̳̟͖͈̖͓͖͍̗̹͎t͔̱̥͕̙ͬͯ̉ͧ͡aͥͬͬͩ̇ͤͧ͗̾̏̽ͬ̇͑̅̂҉̢̗̜̝͚̀̕͞l̥̻̞͚̲̖͚̠͖͚̂̐͆ͯ̈͛ͭ̓ͯͣ́̋́̀ ̧͈̱͖̟̫̫̲̜̤͍͙͔͈̠͎̻͛͛̓ͣ̚͜ͅĔ̸̡̖̭͓̯͚̭̠̘͙̲̜̦̞̰̒̿̂̋̇͒̐̄̀̇̾̕͟ͅy̴ͬ̑͂͆̂̋ͧ̿̅̔̿̈̽̀̀͏̬͖̰̪̞̹̠̝͕͖̥̻͖̼̗͉ͅẹ̴͎̜͎̬͙̪͖̪̗̯̯͇̪̼̩̣̀ͭ͊ͯ̓͗̇ͭ̽ͣͤ͐ͪ͞

Enemies
All enemies of the Tower, with a deep seeded hatred for any betrayers to the Cam.
Sire
Ezra Gold (deceased)

Ventrue Only
Leviticus, Ezra, Barbarossa, Julia Antasia, Tinia
Childer
Maximus Yazzie (Fame 4, Televangelist ((inactive))
Broodmates
Leviticus is the 3rd of Ezra's creations.
Character Inspirations
Soundtrack
Diamonds - S.P.G.
Mr. Pinstripe Suit - Big Bad Voodoo Daddy
Jockey Full of Bourbon - Tom Waits
Hungarian Dance No. 5 - Johannes Brahms
Once Upon a December - Lynn Ahrens
Everybody Wants To Rule The World - Lorde

Quotes
"Iz only money"
Rumors