Kate Davidson
From Camarilla Wiki
| | |
| --- | --- |
| Clan | Ventrue |
| Position | None |
| Status | 4 |
| Domain | Unknown |
| Coterie | The Consortium |
| Society | {{{Society}}} |
| Path | Humanity 000 |
| Player | Monica Ann |
[[Category:Society:{{{Society}}}]]
Overview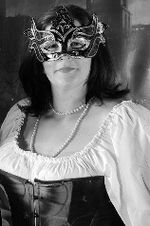 Alias(es): None public
Real Name: Kate Davidson
Apparent Age: Early 20s
Concept: Venture capitalist
Physical description: Tall. Brunette. Business-suit. Sexy librarian glasses.
Scars: Often hidden under business clothes, Kate has a long, thin scar on the back of her neck where it appears a blade cut into her.
Detailed Status:

Character Information
Known History
Began her Camarilla career in Berkeley, CA.
Primogen then Scourge then Primogen of Berkeley.
Moved to Washington, DC.
Became Ventrue Primogen and then Seneschal of Washington, DC.
Killed Alexander Monroe and took Praxis.
Lost her praxis to Datillo.


Allies
Brian Faulkner
Donovan Lewis (deceased)
Elias Beecher
Kathrin Braddock
Rylis Hannalore (deceased)
Saul Good
Victoria Rowlands (deceased)
Virgil Deems
Johnathan Gwynn
Nikolaus Athanasius
Claire Deems

Enemies
None. Kate is beloved by all. :)
Sire
Andrew Davidson -- The Banker. (Prestigious Sire)
Childer
None known.
Broodmates
Three lovely sisters.
Character Inspirations
Laura Roslin or maybe Starbuck
Tropes
Soundtrack
The IC Soundtrack

God is a DJ
Lose Yourself
I Can't Take My Eyes Off You
Gasoline and Matches
I Don't Want to Miss a Thing - Pomplamoose
Jar of Hearts
---
The OOC Soundtrack
Take it Off
I'm on a Boat!
Quotes
"You're much less of a pill these days, Kate." -
Johnny G
---
"I will give you a dollar if you do." - Kate, herself
---
Kate's Public Defender: "Kate, I will defend you in this for you on the condition that you do not open your mouth."
Kate's response: "Well, that's fair."
---
"I'm no good for you, Katie. I'm a rebel."
-
A certain annoying Archon
---
"Kate. You're so utterly hard-headed and stubborn. Because of that, I won't kill you today." -
Alexander Monroe
---
"That was all fucking Kate." --
Saul Good
---
"I have said nice things about you before... I said your clothes were nice."
Thomas McGrath
---
"Give me my sword and let me die on my feet!!" - Kate, herself
Rumors
Rumored to be blood-bound to Monroe -- before she killed him.
Was asked to recite poetry to Justicar Cock Robin.
Rumored to have worked for an Archon to Her Power.
Keeps having affairs with Brujah, except when she throws herself at Tremere.
[ Insert obligatory Setite rumor here ]
Was Blood Bound to Donovan Lewis.
Threatened to kill a Prince over a girl.
Rumored to have once been blood-hunted.
BFF with Kathrin Braddock.
She loves flowers
Is actually a Brujah.
Hates Gardens.
Had a passionate relationship with Victoria Rowlands (deceased).