Javier Salazar
From Camarilla Wiki
| | |
| --- | --- |
| Clan | Ventrue |
| Position | Primogen |
| Status | 2+1 |
| Domain | Piriápolis, Brazil |
| Coterie | None |
| Society | None |
| Path | Humanity - |
| Player | Lucas Reinehr |
Overview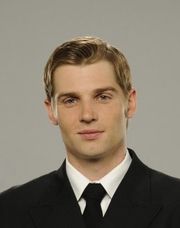 Alias:
Real Name:
en-us: Unknown.
pt-br: Desconhecido.
Apparent Age:
en-us: 35 years.
pt-br: 35 anos.
Concept:
en-us: Corporative Executive.
pt-br: Executivo corporativo.
Physical description:

en-us: Javier has 6'2'', light eyes and blond hair, looking to be 35 years old. He does not usually stand out physically in the crowd (appearance x4), but his grave and steady voice, combined with his authoritative and penetrating gaze, gives him a sense of superiority and leadership. He usually wears formal tailor-made clothing, along with sophisticated high-end accessories.
pt-br: Javier tem 1,89m, olhos claros e cabelos louros, aparentando ter 35 anos. Não costuma se destacar fisicamente em meio a multidão (aparência x4), mas sua voz grave e firme, combinada com seu olhar autoritário e penetrante passam uma sensação de superioridade e liderança. Costuma trajar roupas formais feitas sob medida, em conjunto com acessórios sofisticados de alto padrão.
Personal Status: 2

Positional Status: 1

Character Information
Known History
Salazar was a great real estate investor in Maldonado, moving to Rio Grande after being embraced.
He was the Primogen of the Ventrue clan in the Rio Grande, Brazil Domain between 05/2017 and 11/2017.
He is the Primogen of the Territory of La Barra in the Domain of Piriápolis, Uruguay since 12/2017.
Salazar foi um grande investidor do ramo imobiliário de Maldonado, mudando-se para Rio Grande após ser abraçado.
Foi Primogênito do clã Ventrue no Domínio de Rio Grande, Brazil entre 05/2017 e 11/2017.
É Primogênito do Território de La Barra no Domínio de Piriápolis, Uruguay desde 12/2017.
Coterie
en-us: Unknown.
pt-br: Desconhecido.
Allies
Enemies
en-us: Unknown.
pt-br: Desconhecido.
Sire
Childer
en-us: Unknown.
pt-br: Desconhecido.
Broodmates
Character Inspirations
Soundtrack
Quotes
Rumors