Henrique Becker
From Camarilla Wiki
| | |
| --- | --- |
| Clan | Toreador |
| Position | None |
| Status | 2 |
| Domain | Rio Grande, Brazil |
| Coterie | None |
| Society | None |
| Path | Humanity - |
| Player | Eduardo Ribeiro |
Overview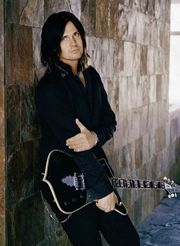 Alias:
Real Name:
en-us: Henrique Becker.
pt-br: Henrique Becker.
Apparent Age:
en-us: 28 years.
pt-br: 28 anos.
Concept:
en-us: Guitar Hero.
pt-br: Guitarrista.
Physical description:

en-us: He usually dresses in black clothes, boots, jeans or leather, plain or band shirt, dark shirt on top, a few rings, bracelets and chains, wears long straight hair. It is quite high, about 6"3". He has 5 traits of Appearance, and is almost always in a good mood or smiling. He always has a guitar in his case. Has the Merits Baby Face and Eat Food.
pt-br: Costuma se vestir com roupas pretas, botas, calça jeans ou de couro, camiseta lisa ou de banda, camisa escura por cima, alguns poucos anéis, braceletes e correntes, usa cabelo comprido e liso. É bastante alto, cerca de 1,90 m. Possui 5 traits de Aparência, e está quase sempre de bom humor ou sorrindo. Está sempre lhe acompanha uma guitarra no case, tem a qualidade Rosto de Bebê e Ingerir Comida.
Personal Status: 2

Character Information
Known History
Coterie
en-us: Unknown.
pt-br: Desconhecido.
Allies
Enemies
en-us: Oliver Widrick - Ex- Prince of Rio Grande(Decease).
pt-br: Oliver Widrick - Ex-Príncipe do Rio Grande (Falecido).
Sire
Childer
en-us: Unknown.
pt-br: Desconhecido.
Broodmates
Character Inspirations
Soundtrack
Quotes
Fora da música, não há felicidade, e sem felicidade não há vida.
O destino nos leva onde temos de estar
Quando percebemos que chegamos ao nosso limite, é o momento de mais dedicação.
A emoção nos leva a fazer coisas adoráveis, mas nem todas podem parecer agradáveis.
É melhor um público seleto que nos idolatra, que um grande público que mal nos conhece.
Rumors
He was almost killed for being too attentive to the Sire and the girlfriend of the Prince of Rio Grande when he met them.
Quase foi morto por ser atencioso demais com a senhora e a namorada do principe do Rio Grande, quando as conheceu.