Gumercindo Pernambucano de Mello
From Camarilla Wiki
| | |
| --- | --- |
| Clan | Malkavian |
| Position | None |
| Status | 1 |
| Domain | Petrolina |
| Coterie | None |
| Society | ??? |
| Path | Humanity ??? |
| Player | Fábio"China" Henrique |
Overview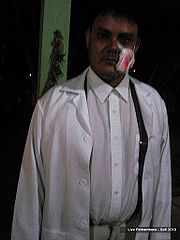 Alias(es): Dr. Gumercindo,Ph.D.
Real Name: Gumercindo Pernambucano de Mello
Apparent Age: 25 years old
Concept: Pshychiatrist and Analyst
Physical description: caucasian, 1,72m tall, brown hair, his eyes are one light blue and other dark green. Despite his thin body, shows some strong and resistence.
Detailed Status: Acknowledged by Johann Webber, former Prince of New Byzantium
Character Information
Known History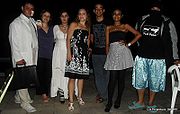 Coterie
None
Allies
?
Enemies
Sire
Childer
None
Broodmates
Character Inspirations
Strange Case of Dr. Jekyll and Mr. Hyde
Soundtrack
Quotes
"Hum...Think he knows a lot..." Toni Giovanni after hear an explanation of Gumercindo about the Wraiths
"Tell me honestly, you are really a loyal member of the Camarilla?" Prince Miguel Casanova
"I'm the doctor, so can't be insane." Gumercindo at a Malkavian meeting
Rumors
He is an infiltrated Anarch;
He has something that attracts any Wraith of the sorroundings to his presence