Ganesha Luz
From Camarilla Wiki
| | |
| --- | --- |
| Clan | Malkavian |
| Position | Retired |
| Status | 3 |
| Domain | Pernambuco, Brazil |
| Coterie | ??? |
| Society | ??? |
| Path | Humanity 00000 |
| Player | Esthon Jr. |
Overview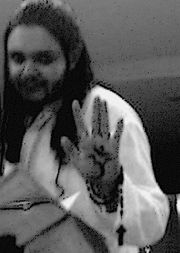 Began active play January 2007; Retired February 2009
Alias(es): The Guru, Nirvana
Real Name: José Ganesha Luz
Apparent Age: 54
Concept: Spiritual Guru
Physical description:

1.80 cm, slim with long hair and white beard. Looks extremely human.Tends to wear only white clothes in Indu style . It carries amulets and objects that symbolize all religions and sects.
His speech is calm and quiet

1,80cm, magro de cabelos longos e barba branca, tem uma aparência extremamente humana. Costuma se vestir apenas com roupas brancas no estilo Indu. Carrega consigo amuletos e objetos que simbolizam todas as religiões e seitas.
Sua fala é tranquila e calma



Detailed Status

Acknowledged by Cristiano Matarazzo, former Prince of Recife.
Esteemed by Cristiano Matarazzo, former Prince of Recife.
Wise by José de Alcântara Matado, former Prince of Recife.
Character Information
Known History
Became Master of the Harpies in the Principality of Cristiano Matarazzo. (2007)

Became Seneschal in the Principality of José de Alcântara Matado. (2008)
Became Prince to Recife (2008)
Publicly abdicated in the Principality after a month. (2009)
Became Primogen in the Principality of Patrick Soarez.(2009)
Publicly abdicated in the Primogen and said he wanted to live free from political interference. (2009)




Se tornou Mestre das Harpias no Principado de Cristiano Matarazzo. (2007)
Se tornou Senescal no Principado de José de Alcântara Matado. (2008)
Se tornou Principe de Recife. (2008)
Abdicou publicamente do Principado depois de um mês. (2009)
Se tornou Primogeno no Principado de Patrick Soarez. (2009)
Abdicou publicamente da posição de Primogeno e declarou querer viver sem interferencias politicas (2009)
Coterie
Allies
Enemies
Sire
Anne Sophie
Childer
Amélia Nolleto, Primigen of Recife. (disappeared)

Broodmates
Bruno
Character Inspirations
Soundtrack
Quotes
- Greetings ... Namaste!
- Saudações... Namastê!
Rumors
He's just an anarchist..
He has become a Prince was just a Malkavian Prank.
He embraced the best dancer from Brazil to challenge clan Toreador.
He is in Golconda.
He is in Arcadia.
Ele não passa de um Anarquista.
Ter se tornado Principe foi uma Brincadeira Malkavian.
Ele abraçou a melhor bailarina do Brasil para desafiar o clã Toreador.
Ele está na Golconda.
Ele está em Arcadia.