Fredrick Gold
From Camarilla Wiki
| | |
| --- | --- |
| Clan | Tremere |
| Position | Sovereign Prince |
| Status | 6+5+2 |
| Domain | Hartford, CT |
| Coterie | ??? |
| Society | ??? |
| Path | Unknown ??? |
| Player | Rob Ieraci |
Overview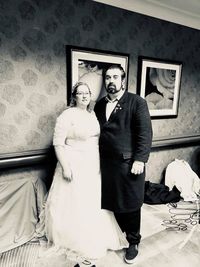 Alias(es):

Real Name:
Apparent Age:
Concept:
Physical description:
Detailed Status:
Distinguished (Positional)

Exalted (Positional)

Famous (Positional)

Well-Known (Positional)

Venerable (Honorary) as a Sovereign Prince of the Camarilla

Feared (Honorary) as a Josian within the Camarilla

Dignified as a Dignitary of the Camarilla
Character Information
Known History
Coterie
Allies
Enemies
Setites named Amun.
Sire
Childer
Broodmates
Character Inspirations
Soundtrack
Quotes
Rumors
Rumor has it he likes younger women. (much, much younger women)
Has started wars between ladies vying for his affections.
The men who compete for his affections, however, do so quite peacefully and amicably. Even the women don't seem to mind them.
Was actually sired by Selene Lazarion.
Does not walk the Path of Humanity.
Is actually the Imperial Prince of Connecticut. Calvin is actually a Marquis, though called Prince in public.
With his allies is quietly expanding his borders west and south.
Gold has a hero complex when it comes to ladies needing assistance.