Fox
From Camarilla Wiki
| | |
| --- | --- |
| Clan | Gangrel |
| Position | None |
| Status | 5 |
| Domain | La Crosse, WI |
| Coterie | None |
| Society | ??? |
| Path | Humanity 00 |
| Player | Jason Mills |
Overview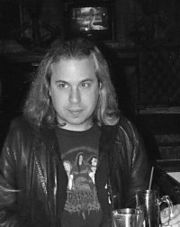 Alias(es):

Real Name: Murphy McManus
Apparent Age: 35
Concept: A fine Irish lad.
Physical description: Stands around 5'9", longer graying hair, average build, usually in a leather jacket of some sort.
Detailed Status:

Acknowledged,
Committed,
Feared,
Loyal,
Resourceful
Character Information
Known History
Embraced during the Emergency (commonly known as WWII), Fox once served as a spy for Nazi Germany. As the war drew to its conclusion, some event left the former Irish national changed, and he vowed to never again be on the wrong side.
Since that time Fox has wandered from place to place, acting the part of a happy-go-lucky fella, all the while looking to atone for his mistakes.
In recent history Fox came to reside in La Crosse, WI where he was called into action and served as Sheriff and then Prince of the domain. He played his part as best he could, and then stood aside for another when the time came.
These nights Fox wanders the Midwest, occasionally popping through the domain he once called home.
Coterie
Allies
Warren deMontegue
Rasputin Volnicov
Pitbull
Diego
Enemies
Vivek Cross
Remi Cross
Sire
Unknown
Childer
N/A
Broodmates
N/A
Character Inspirations
Soundtrack
Dropkick Murphys - Barroom Hero
Quotes
"Enjoy the punch!"
Rumors
Fox hates the movie, "Boondock Saints."