Eddie Darling - Not Quite Deceased
From Camarilla Wiki
| | |
| --- | --- |
| Clan | Brujah |
| Position | Sheriff |
| Status | 2 |
| Domain | Phoenix, AZ |
| Coterie | None |
| Society | {{{Society}}} |
| Path | Humanity 00 |
| Player | Bryan Himebaugh |
[[Category:Society:{{{Society}}}]]
Overview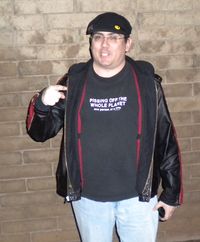 Alias(es): None beyond his name, thus far.
Real Name: Not revealed
Apparent Age: Early twenties
Concept: Street punk
Physical description: Eddie is not all too imposing - looking like a wiry street punk. He's got pale skin, dark eyes and dark hair. He sports some tattoos - some for style; others supposedly gang markings.
Detailed Status:
Acknowledged by Prince Desmond Lockhardt
Feared as Sheriff of Phoenix, Arizona
Prestigious Sire - Desmond Lockhardt
Insane Sire - Desmond Lockhardt
Character Information
Known History
Coterie
What's that?
Allies
Anabel Bransford - A Southern belle in the Movement, a friend and one who understands where Eddie is coming from...
Enemies
Sire
Desmond Lockhardt
Childer
What? Are you kidding?
Broodmates
1 of 5 survive, says his sire. He's got hints that he has Broodmates out there, but he has no idea who they are.
Character Inspirations
Soundtrack
Quotes
I run a school for elocution and manners. So far, my first student has yet to make a mistake since being put through the school.
Do you want me to punch it?
I got some beef jerky... you want some?
Every time a pretty woman walks by: "Heeey. How you doin'?"
Rumors
Eddie is really an Anarch, playing pretend.
Eddie is an aide to one of the Archons on the West Coast.
Eddie once struck lightning.
Eddie has evenings where he looks worse than the Nosferatu.