Dr. Theresa Mariani
From Camarilla Wiki
| | |
| --- | --- |
| Clan | Malkavian |
| Position | Primogen |
| Status | 2(+1) |
| Domain | Cleveland, OH |
| Coterie | None |
| Society | ??? |
| Path | Humanity - |
| Player | (Mary Sayer) |
Overview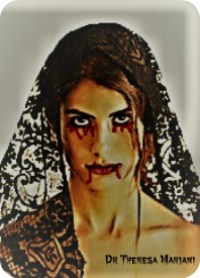 Alias(es):


Real Name: who can remember?
Apparent Age: 34 Concept: Religious Zealot sociopath
Physical description: average height, average build. Mediteranean skin tone with dark brown eyes and dark auburn hair Detailed Status:
Acknowledged by Lucas Bonfirm) May 2017, Visionary July 2017, Revered ( positional) July 2017

Character Information
Known History
(edit this part)
Coterie
(edit this part)
Allies
Mehket ( deceased) Big Cass (deceased)
Enemies
Johnny Lewis (deceased)
Sire
Lorenzo Costa
Childer
none
Broodmates
none
Character Inspirations
Mother Theresa meets Bellatrix Lestrange

Soundtrack
" Voices" Rev Theory
" Scaretale" NightWish
" I Wanna be Sedated" Ramones
"The Ballad of Dwight Fry" Alice Cooper
" Diary of a Madman" Ozzy Osborne
"Make me Wanna Die." Pretty Reckless
Quotes
" Yes, I was an anarch. I got better."
" You are angry-- but all I did was put the pieces on the chessboard. I took away no one's free will. You chose how to move your piece. I know what I see when I look in the mirror, cracked as it may be. You are angry because when you look in the mirror after making your choice, you do not like what you see."
Rumors
Is far saner than she lets people believe.


Is far more dangerous than she lets people believe.