Douma Charoum
From Camarilla Wiki
| | |
| --- | --- |
| Clan | Tremere |
| Position | Archon |
| Status | 6+2 |
| Domain | Atlanta, GA |
| Coterie | ??? |
| Society | ??? |
| Path | Humanity 0 |
| Player | Michael |
Overview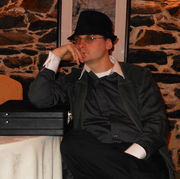 Alias(es): Doug, Douglas St. James, "Doom Mushroom"
Real Name: Unknown
Apparent Age: Early 50s
Concept: Obsessed Occultist
Physical description: Douma appears to be an older 5'10" Caucasian weighing a little over 200lbs. He is clean shaven with thinning dark brown hair that is going gray. His small steel blue-gray eyes can be seen behind his thin rimmed tortoise shell glasses. He usually dresses causally at gather but is never seen without his green canvas hunting vest.
Detailed Status:

Acknowledged by Asher Sinclair, then Prince of Savannah
Respected by Arich Dolen, then Prince of Carrollton
Insightful by Jon Sebastian, then Prince of Carrollton
Dutiful by Scott Daine, then Prince of Atlanta
Praised by Mitchel Ransom, then Prince of Middle Georgia
Rigorous by Charles McMillan, Prince of Atlanta
Feared and Empowered as Archon
Character Information
Douma is an aloof traditionalist who is often seen hovering about the edges of gathers. He has been described as practical to the point of being amoral. Although he is the quintessential Tremere, Douma hates to be witnessed using Thaumaturgy and has even apologized to the Prince after using magic to put out a fire. When dangers outside the normal ken come against the city the Seneschal prefers to go out alone and put himself between the Domain and the threat. As Seneschal, Douma believed that his Position and his standing in the Camarilla gave him the responsibility to protect the Domain. While he took his duty to protect the Domain very seriously, he is still very much the capitalist and has on occasion charged for his services. It remains to be seen how becoming an Archon will impact this stance. He can be quite charismatic and friendly but it is probably forced and he is certainly not a fan of subtlety.
Known History
Douma came into Atlanta from Savannah after the disappearance of his clanmate Michael Carpenter during a time when Tremere were widely and openly distrusted in Georgia. His history before this time is unknown except that he was only Acknowledged a month prior to his arrival in Atlanta. Douma attached himself to the Ventrue Prince Arich Dolen and the up and coming Ventrue Scott Daine and quickly rose in the domain serving as both a Keeper and as a Primogen. When Daine took Praxis over Atlanta he took Douma as his Seneschal. Later Prince Daine replaced Douma as Seneschal and Douma was made Primogen again. Shortly after Prince McMillan took the Praxis over Atlanta and Douma returned to his previous position of Seneschal. He is married to Genervera St. James of Clan Ventrue.
In June of 2012 he was appointed Archon to the Tremere Justicar, Lotharius.
Coterie
Douma is in the Camarilla.
Allies
Enemies
Sire
Not publicly known
Childer
Broodmates
Character Inspirations
Soundtrack
Quotes
"No need to be dramatic." - Douma, after wraiths violently gathered all loose objects in the room and flung them at Douma's feet
Rumors
Douma is considered the approachable Archon.
Douma has a vast knowledge of Lore on a broad range of topics.
Douma had his testicles shot off with a revolver during Celerity lessons. He then immediately forced his teacher to instruct him in more Celerity as recompense.
Douma is rumored to be the real one in the control of Atlanta.
Douma may not oppress the Children of Haqim like all "good" Tremere should.
If anyone in Atlanta was a serial killer, it would be him. Think about it! Intelligent, unflappable, always carrying a briefcase and gloves...
He only knew one ritual for years. He still managed to make himself indispensable.
Douma has never lost personal status.
He has expressed disdain for his Clanmates who believe that their Thaumaturgical might entitles them to act brutishly heavy handed without a thought to political ramifications.