Charles X. Taylor
From Camarilla Wiki
| | |
| --- | --- |
| Clan | Ventrue |
| Position | Seneschal |
| Status | 6+3+1 |
| Domain | Savannah, GA |
| Coterie | None |
| Society | ??? |
| Path | Humanity 0000 |
| Player | Cary Palmer |
Overview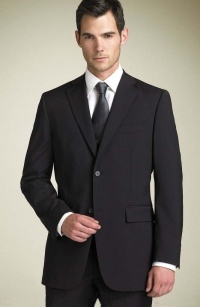 Alias(es): Seneschal K2
Real Name: Charles Taylor?
Apparent Age: Late 20s
Concept: The Spider
Physical description:Charles is average height with dark hair and a piercing gaze
Detailed Status:
Acknowledged by Prince Clinton Erikson of Trenton, New Jersey
Dedicated by Max Rowlands, Former Ventrue Primogen of Savannah, Georgia
Courageous by Josephine Lee Former Ventrue Primogen of Savannah, Georgia
Unflinching by James Frederick Krieger, Former Prince of Savannah, Georgia
Resourceful by James Frederick Krieger, Former Prince of Savannah, Georgia
Invaluable by Her Might, Prince Tatiyana Krajnik of Savannah, Georgia
Cherished as Seneschal of Savannah, Georgia
Esteemed as Seneschal of Savannah, Georgia
Trusted as Seneschal of Savannah, Georgia
Dignified as Dignitary of the Camarilla

Character Information
Known History
It's easily known that Charles arrived in Savannah in June of 2011 from North Dakota, which is the most boring place in the history of the universe. He arrived with a menagerie of wayward souls, of which the only one still relevant in Savannah is Gool. His very first night in the domain he modified memories of several mortals by himself to protect the Masquerade which prompted the Ventrue Primogen at the time to award him his standing of Dedicated. From that point, he was selected as the Primogen of the Ventrue less than a month into his stay there. He continued to gain standing at a steady rate by generally being useful and once literally taking a bullet for The Prince at the time, James Krieger. By January he'd been selected by Krieger to be the Keeper of Elysium. Through ups and downs, Kindred arriving and leaving, Charles formed a relationship with many Kindred in the domain. Including but not limited to Silhouette, Tatiyana Krajnik, Max Rowlands, Chiton, Cotton, and many others. Charles was briefly out of the political scene when he was removed from the Keeper of Elysium position and Dr. Josephine Lee was made Primogen of Clan Ventrue. Things seemed like the end of Charles's political career until he made the boldest move yet. When James Krieger abdicated his position of Prince in 2013, Charles informed the new Prince, Tatiyana Krajnik that unless she had different ideas towards Seneschal that he can fill the role expertly. This position he still holds to this day. He maintains his empire of mortal sway, more often than not, if there's something that requires mortal influence, Charles Taylor gets it. He remains a power player in Savannah even today.
Charles is rumored to have "arranged" for the banishing of his former enemy Eddie Blake from the domain of Savannah.
Coterie
Allies
Tatiyana Krajnik
Silhouette
Max Rowlands
Chiton
Cotton
Gool
Alexander Draco Remus IV

Enemies
Currently accepting applications.
Sire
Calogera Alcheri
Childer
Broodmates
Character Inspirations
The Kingpin
Horace Slughorn
Raymond "Red" Reddington
Vince McMahon
Eric Bischoff
Tien specifically from Dragonball Z Abridged
Soundtrack
Christopher Lee- Act I King of the Franks
Don McLean - American Pie
Alice Cooper - This House is Haunted.
Krypteria - The Promise
Lonely Island - Like a Boss
Evanescence - Everybody's Fool
Vampire - People in Planes
Michael Crawford - The Music of the Night
Bedlam Bards - Hush Little Citizen
Alice Cooper - Dirty Diamonds
Ella Fitzgerald - Hard Hearted Hannah
James Marsters - Rest in Peace
Alice Cooper - Poison
Cee Lo Green - Fuck you
Alice Cooper - Shadow of Yourself
NSP - Everybody Wants to Rule the World
The Brothers Bright - Blood on My Name

Quotes
"Don't mistake me, if you test me I will rain down fire on you until there is nothing left."

"Talking louder won't help. I hear you, I just don't care about what you're saying."

"Because I'm with the government."

"I like to think of myself as a tolerant person. I'm not, but I like to think I am."

"Allow me to rebut, have we considered the idea of introducing this hunter to a bullet?"

"Set is commonly depicted with a donkey for a head, which makes sense because it's a god fit for a jackass."

"Charles Taylor is not a man he is a spider. He sits in the center of his deep web of a thousand stings and plucks each of them to make all those around him dance to his tune."

"I think you're vastly overestimating how much I value your opinion."
Rumors
Charles hates Setites.

Charles has died and gone to Hell.

Charles has an active death wish.

Charles has survived insulting a pack of Lupine directly to their face.

Though Charles has been friendly in the past with Alexander Draco Remus IV, they've recently had a falling out for unknown reasons.

Charles has orchestrated the disappearance of several Ventrue.

Charles is the luckiest Ventrue on the face of the planet.

Is the most fabulous Seneschal in the Southeast.

Won a D&D tabletop game to be GM'd by Tatiyana Krajnik for over a half a million dollars.


Still hasn't collected on that game.

Will probably play a Bard.

Did not play a Bard.


Charles owns a pair of solid gold pants that were meticulously hand crafted by Tibetan monks.


He wears them on special occasions.


Fought a DEMOGORGON!