Atchila Lightwood
From Camarilla Wiki
| | |
| --- | --- |
| Clan | Toreador |
| Position | None |
| Status | 3 |
| Domain | Campos do Jordão, Brazil |
| Coterie | ??? |
| Society | ??? |
| Path | Humanity 000 |
| Player | Carlos H. - Patão |
Overview
Alias(es):
Atchila Lightwood.


Real Name:
Desconhecido.
Unknown.


Apparent Age:
28 anos.
28 years.


Physical description:
Atchila tem 1,75mt de altura, possui um corpo levemente atlético e seus olhos com heterocromia dividem a cor azulada e castanha.. Normalmente esta com cabelos relativamente comprido e loiros, mas sabe-se que ele muda o corte e a cor dos cabelos constantemente. Ele se veste de acordo com a ocasião, normalmente é mais visto de sapato social, calça social, camisa e um colete.

Atchila is 5'9" tall, has a slightly athletic body and his eyes with heterochromia divide the bluish and brown color. Usually this relatively long, blond hair, but it is known that it changes the cut and hair color constantly. He dresses up according to the occasion, it is usually seen more social shoe, dress pants, social shirt and vest.

Detailed Status:
- Reconhecido na cidade de Kansas por James Branderson. | Acknowledged in Kansas City by James Branderson.
- Eficiente aos olhos do Soberano Calton Kalmir. | Efficient by Sovereign Calton Kalmir.
- Valoroso membro da Legião de Marfim. | Valorous member of the Ivory Legion.

Character Information
- Atchila possui a pele corada como a de um mortal. | Atchila has flushed skin like a mortal.
- Famoso Designer de cabelo. (Fama x3) | Famous Hair Designer. (Fame x3)
- Voz melodiosa. | Melodious voice.
- Líder nato. | Natural leader.

Known History
Coterie
Allies
Enemies
Sire
Childer
Broodmates
Character Inspirations
Soundtrack
Quotes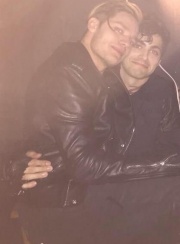 Votos de Casamento: Põe-me como selo sobre o teu coração, como selo sobre o teu braço; porque o amor é forte como a morte; o ciúme é cruel como o Seol; a sua chama é chama de fogo, veementes labaredas. As muitas águas não podem apagar o amor, nem os rios afogá-lo. Se alguém oferecesse todos os bens de sua casa pelo amor, seria de todo desprezado.

- Votes Matrimony: Place me like a seal over your heart, like a seal on your arm; for love is as strong as death, its jealousy[a] unyielding as the grave. It burns like blazing fire, like a mighty flame. Many waters cannot quench love; rivers cannot sweep it away. If one were to give all the wealth of one's house for love, it[c] would be utterly scorned.
Rumors
Atchila é casado com Alan e dividem o mesmo sobrenome.
Atchila é extremamente intolerante quanto a pronuncia errada de seu nome, corrigindo sempre.