Al Haqin Sain
From Camarilla Wiki
| | |
| --- | --- |
| Clan | Brujah |
| Position | None |
| Status | 3 |
| Domain | Natal and Fort North, Brazil |
| Coterie | Unknown |
| Society | ??? |
| Path | Road of Heaven - |
| Player | Anderson Matsuura |
Overview

Apparent Age:
32


Physical description:
Al Haqin is a tall and lithe man with short and black hair. His eyes are black and piercing. His beauty and human skin tones are characteristics that distinguish from the others. It has a serious and serene attitude at the same time. His presence inspires courage, love and fear


Detailed Status:

Acknowledged by Prince Mustafa of Istambul.
Feared by Sir. Edward Hurtington Campbell III, Prince of Belém.
Feared by Crian Lobos, former Archon and Prince of Fortaleza.



Character Information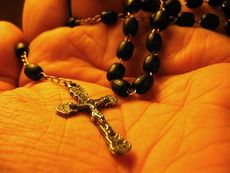 Known History
Al Haqin Sain is an ancient Brujah. Almost nothing is known of his past history. His notoriety has become evident with their constant victories against the Sabbat. He also destroyed his own sister to be Archbishop of the Sabbat
Al Haqin served a long time in the principality of Fortaleza. He held almost all positions, including being Prince. However, he resigned from all positions to devote himself exclusively to fighting.
It is known that Al Haqin is a man of faith. His actions are always based on kindness, justice and humanity. His devotion is strong and moves his will to extremes.

Allies